Team building is an integral part of a company. With a good team, we can can make our company better and better.
Everyone knows that as a coastal city, barbecue is the main theme of summer nights.
The work of the week is over, it's time for dinner. On a hot summer day, the cool seaside is certainly our first choice.Sitting on the beach, feeling the breeze of the sea breeze, smelling the taste of the sea, feeling the beauty of nature, making people feel very relaxed.The sea lets us forget all the fatigue, and be grateful encounter in life.
Barbecue, we are coming! Mutton skewers, beef skewers, chicken fillets, prawns, enoki mushrooms, potato chips, edamame, peanuts..They are all delicious. We ate, laughed, talked about work, and talked about trivial things in life.
We like to work together, play together, and work hard together to grow longer and better.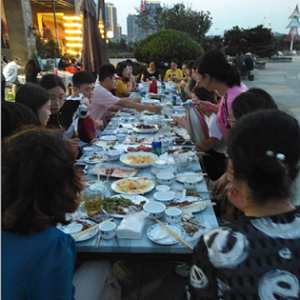 We promise each of us will treat our eyelashes with the utmost seriousness.